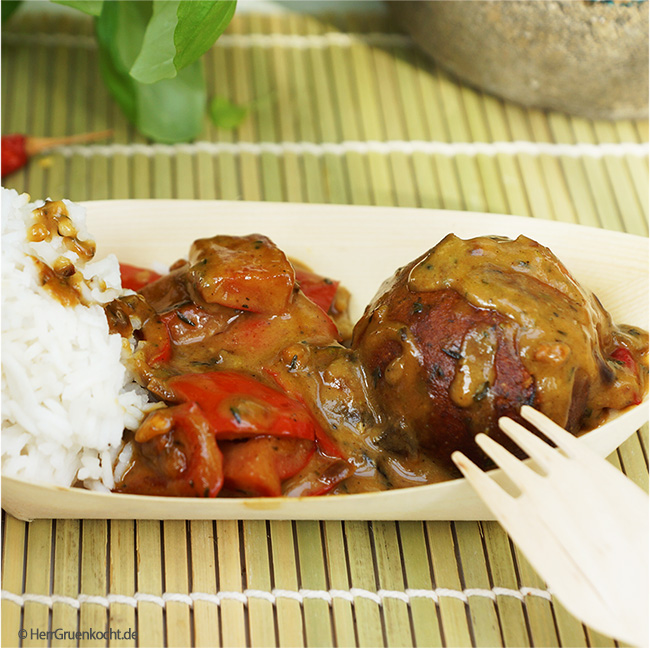 Tonight Professor Caprese, Luigi and Mr. Josele are my guests. First we will have Asian food. I have prepared a little something in the cooking lab: Lentil Banana Balls with Peanut Pepper Sauce and Rice.
Afterwards, the professor will give a short lecture on the state of robotics research using the example of a Neapolitan robot that is supposedly capable of running a pizzeria completely on its own and even delivering pizza on a Vespa. Well – you get the idea. This should be fun.
Interested in the lentil banana balls and spicy peanut bell pepper sauce? I'd love to.
Ingredients (for two servings)
Ingredients peanut-pepper sauce
250 g red bell bell pepper
1 medium red onion
2 geh. Tbsp. peanut crème crunchy
50 ml soy sauce
150 to 200 ml coconut milk
2 tablespoons oil of your choice
1 tbsp dried marjoram
1 tsp Indian curry with good spiciness
salt, fresh black pepper
Ingredients Lentil-Banana-Balls (approx. 6)
100 g yellow peeled lentils
100 g ripe banana
30 g potato flour
40 g breadcrumbs
2 tsp. Indian curry with good spiciness
1 geh. teaspoon dried marjoram
1 geh. tsp. freshly ground cumin seeds
1/2 tsp. salt
fresh black pepper
And additionally 150 g basmati rice
Preparation Peanut-Paprika Sauce
Cut the onion into cubes. Cut the bell bell pepper into large cubes.
Sauté the onion pieces with about 2 tablespoons of oil. Then add the peppers and sauté for about 10 minutes. The pieces should still be firm to the bite.
Pour soy sauce over the whole thing and bring to the boil briefly. Then season with curry, marjoram, salt and fresh pepper. Let it simmer for a short while. Then add the peanut butter. Stir everything well. Add the coconut milk and stir. Now taste to your liking and season if necessary. If the sauce is a bit too salty for you (because of the soy sauce), feel free to add some more coconut milk. Cover the sauce and put it aside.
In the meantime, cook the rice according to the package instructions and keep warm.
Preparation Lentil-Banana-Balls
Cook the lentils according to package directions, place in strainer bowl and let steam off a bit (in no case should they be too watery). While still slightly warm, puree with a blender along with the banana. Add the potato flour and breadcrumbs and mix everything together. Tip: I ground the breadcrumbs from dry wholemeal bread.
Season the mixture with curry, marjoram, the freshly ground cumin seeds salt and pepper. Set aside and let swell for 10 minutes.
Then form about 6 balls and fry in a non-stick frying pan until brown on all sides in sufficient oil. Then place briefly on kitchen paper.
Finish
Heat the sauce briefly. Place the lentil-banana balls on a plate. Put the sauce next to them and add some rice.
Good luck
and best regards
Herr Grün