NEW: The overnight version of the Bateau Baguette.
"Did you pack me some bateau baguettes?" The professor looked a little sad.
"Yes, three bateau baguettes, two marzipan croissants and two more nut buns." I had gotten up especially at two o'clock so that he would be well equipped for the train ride. I had also prepared a thermos of black coffee for him. So everything was taken care of.
For four weeks he was in Naples and also traveled around Italy for some time to visit his huge relatives.
I would miss him quite a bit. The conversations. The lunches together, our daily afternoon coffee.
"May I pass along the recipe for the bateau baguette? I'm sure my cousin Laura will be very pleased." I'm sure some of you know already Laura, she owns a cafe in Naples and offers my crumble cake there.
"I'd be honored." I nodded to him encouragingly.
We hugged cautiously.
Note 1: My latest cooking lab development: the bateau baguette. I've tested it in x variations and like it a lot. It has a 45 minute rise time (gets by without folding) and has a bake time of about 20 to 25 minutes.
I like it best with when it is made with dry yeast. I still added an amount for fresh yeast.
And: The Bateau Baguette has its name of course from the form (Bateau French for = ship, boat) and this one reaches only with the Baguette sheet. A purchase is worthwhile in any case – also bspw. for the fast breakfast rolls and many other Mr. Green baking recipes. It costs about 15 €. If you don't bake it with the baguette tray, you certainly won't get a typical baguette shape, because the dough is very moist and can't hold a shape in itself.
Note 2: Because I am often asked if it is possible to let the dough rise overnight, I experimented here as well. It is possible and the result I also find very good. For example, I started the dough at 11:00 pm and baked the bateau baguette at 8:00 am. But the amount of yeast changes. More about this in the ingredients.
The first photos of the bateau baguette are just being published. This beautiful photo was taken by Imke Hinken. She baked the Bateau Baguette with spelt flour 1050. Thank you very much dear Imke :-))
(Source: Imke Hinken – Instagram)
Ingredients for a bateau baguette
150 g spelt flour 630 (flour 405, 550 or a mixture of 100 g spelt flour and 50 g whole spelt flour I have also successfully tested.
½ teaspoon salt
3 g dry yeast (or 9 g fresh yeast).
In the overnight version: 2 g dry yeast (or 6 g fresh yeast)
110 ml lukewarm water
a pinch of sugar
Preparation
Put the spelt flour in a dough bowl and mix it with the salt.
Put the dry yeast (or the fresh yeast) and the sugar in a cup of lukewarm water and mix everything well until no more yeast grains are visible but only the yeast-water mixture. Please let it stand like this for 5 minutes.
After the 5 minutes, add the yeast-water mixture to the flour in the bowl and mix a little first with a spoon and then by hand – please do not knead. The result is a moist pile of dough that you would never guess would one day become a proud bateau baguette:-). By the way, it's okay to let some flour stick to the bowl – it won't interfere with the process. (see photo).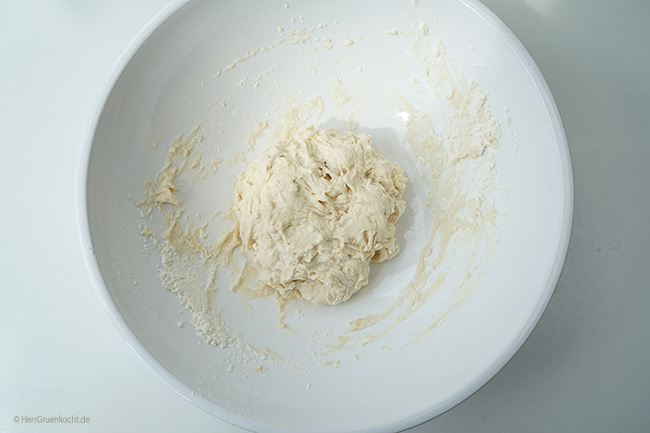 Now cover the dough bowl. My bowl has an extra lid – I find that very convenient. But you can also put a plate on it. Please, however, no cloth or something.
The dough will now rise for 45 minutes.
After 35 minutes, preheat the oven to 250 degrees (convection).
After 45 minutes of rising time, drop the dough onto a well-floured surface. You may want to use a dough card or something similar for this – the dough will hold on to the bowl bravely.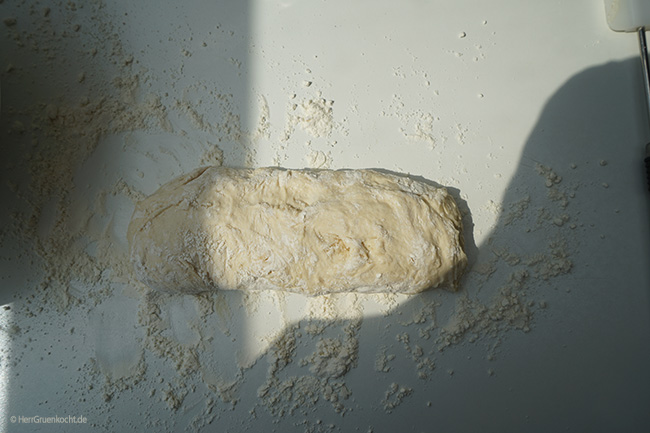 Now the dough is lightly turned by hand in the flour and not kneaded (!). This creates a bead. It should be about 19 cm long. Place this in a furrow of the baguette tray.
Now the whole thing goes for about 20 to 25 minutes on a wire rack – medium level.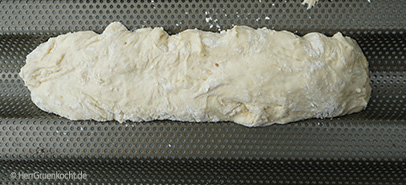 And this is how the crust and crumb look with the dry yeast version: (By the way, the crust stays crispy for a long time and the baguette is nice and fluffy inside).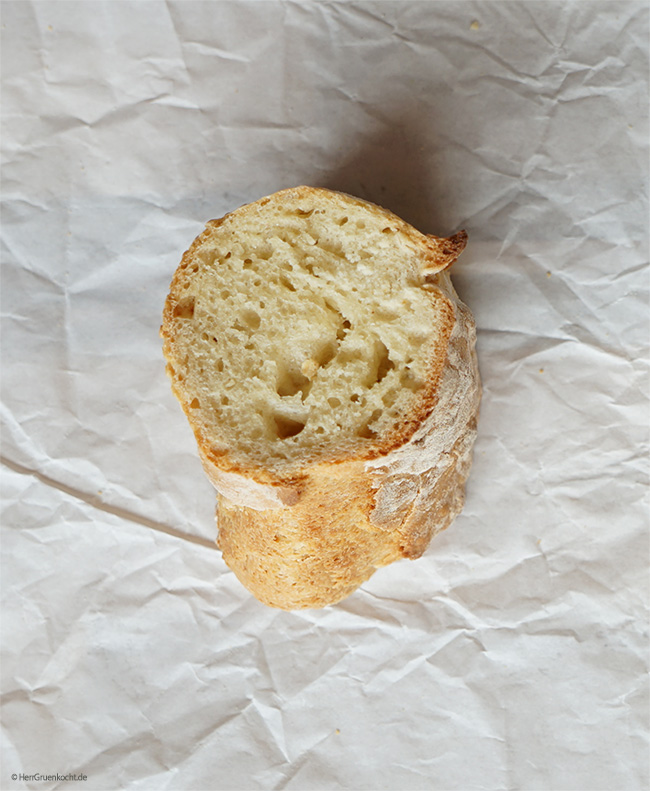 Have fun with the Bateau Baguette
… and many greetings from the cooking lab
Herr Grün