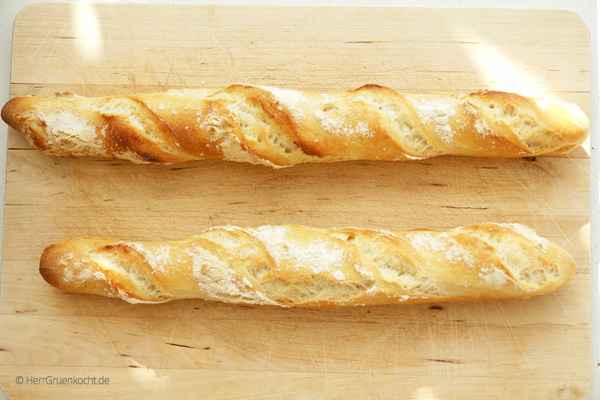 The French have such a unique style for which I admire them very much. One of the images I would never want to miss is a French breakfast at Place d'Italie. A piece of baguette, some butter, jam, un petit café. People are walking by. I like those red awnings. The typical wicker chairs.
Having grown up close to France, I have always been fascinated by the "Flitt" (= Flûtes), as the Saarlanders say. In the last few weeks, I was looking for a recipe that comes closest to the French baguette. And since I'm so impatient, I didn't want to spend many hours preparing it either. I discovered the recipe of the incredibly talented Aurélie Bastian and knew: I found it.
So below is the recipe. Baked step by step. The only difference: I used fresh yeast and a little more. The link to Aurélie of course at the end of the demonstration.
But now to my result.
Ingredients for one large or two small baguettes
250 g flour type 550 (very important – only this kind of flour)
160 ml lukewarm water
10 g fresh yeast
1 tsp salt
a little sugar
Preparation
1. Put the flour and salt in a bowl. Make a small hole in the center. Add the crumbled yeast and pour 50 ml of lukewarm water over it. Add a pinch of sugar on top. Now wipe the flour over the cavity so that the yeast and water are covered. Let this mixture rise for about 10 minutes. Then mix a little with a spoon. After that, gently mix the mixture by hand, adding from time to time of the lukewarm water. Gently knead the dough into a ball. Finally, flour it a little. Place the dough ball on a board. Cover it with a damp cloth and let it rise in a warm place for 1 hour.
2. Place the dough on a lightly floured surface, and knead it vigorously for a good 5 minutes. Then press it slightly flat into a square.
Now fold it as shown in the sequence of pictures:
A) Fold the left corner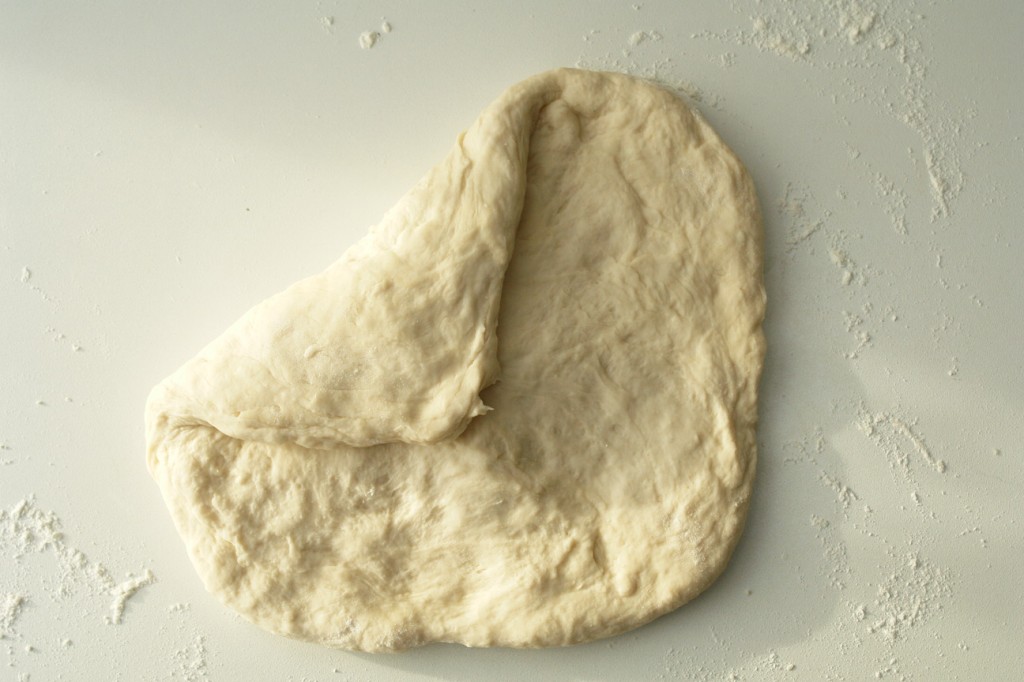 B) Fold right corner
C) Fold bottom left corner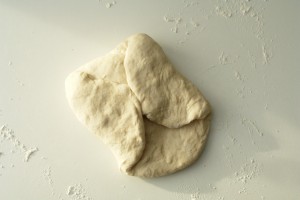 D) Fold over remaining corner
Just imagine you are folding an envelope from a square sheet of paper. And: relax. Breathe in. Exhale. It doesn't have to be that exact. The baguette will turn out great that way too 🙂
3. now let the so folded dough rise again for 20 minutes covered with the damp cloth.
4. do not knead! Just gently press it flat into a square on a floured work surface. If it's too sticky, feel free to rub it a little with flour. Fold the dough again as shown in 2.
Now let the folded dough package rise covered again for 20 minutes. 6.
6. do not knead it! Just gently press it flat into a square on a floured work surface. If it is too sticky, feel free to rub it a little with flour. Fold the dough again as shown in 2.
7. now let the folded dough package rise again for 20 minutes covered.
Okay – you have now folded the dough three times and let it rise three times.
8. now, on a work surface, roll the dough into one strand (or two strands. I've tried both and like the small shape a tad better). Note: You should definitely purchase a baguette tray (see photo). It costs about 15 euros. The purchase is definitely worth it, because the baguette contains such a beautiful shape and because of the holes (see picture) also sufficiently supplied with steam, which gives it its crispy crust.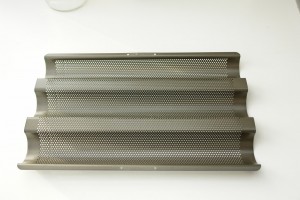 9. place the dough strand (or the two strands) in the baguette pan, and cover it again with a damp cloth. Let it rise for another 15 minutes.
Preheat the oven to 240 degrees (convection) and place a baking dish or tray with water in the lower part of the oven. The steam will make the baguette nice and crisp on the outside.
Cut the baguette three to four times crosswise. (See illustration of finished baguettes). Spray the baguette a little with water or brush it lightly with water using a brush. Place the baguette tray on a rack (middle rack). The baking time was about 15 minutes for the two small baguettes. The large one took a little longer -> about 20 minutes.
Alternatively to 11. do not coat the baguette with water, but flour it a bit. This gives a new effect 🙂 You will see it. Don't worry, the flour won't burn.
Okay. That's it. I am thrilled. The recipe is genius because it produced a result in a relatively short time that I didn't think was possible. The baguette smells wonderful. It has a beautiful color, is crispy on the outside and nice and fluffy on the inside. It tastes best when very fresh. With butter and an excellent strawberry jam, it's a dream. Un petit déjeuner fantastique.
You can of course bake small ficelle with the recipe. That's what I did. Take a look here.
Or maybe you're in the mood for Italian rolls. You can find the recipe here.
Thank you so much to you, Aurélie. You made me very happy with this recipe.
Here you come to Aurélie, whom I greet warmly from here 🙂
Best regards
Herr Grün